"Glimpses" of 10th Nuclear Energy Conclave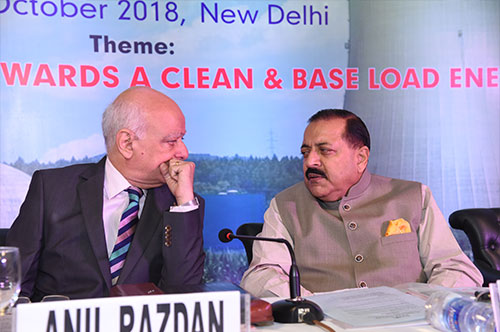 Nuclear Power: Way Forward
The world is passing through the challenge of a difficult energy transition - a transition to New Energy economy by moving away from fossil fuels to cleaner sources like Nuclear and Renewables. The quest for cleaner environment - free of greenhouse gases - is the main driver of this transition. The Renewables like solar, wind, biomass will play major role in future energy economy but the global scale at which energy is required would be missing. In real world, there is no credible path to bulk, base load energy needs and climate stabilization imperative that does not include substantial role for Nuclear Power. For the last nine years, this annual conclave has been deliberating the issues and challenges impacting the civil Nuclear Sector in depth and highlighting to government and other stakeholders the road map for future developments.
The 10th Nuclear Conclave
The 10th Nuclear Conclave is being organized on the theme "NUCLEAR POWER: TOWARDS A CLEAN AND BASE LOAD ENERGY". Over the years, the Nuclear Conclave organized by IEF has emerged as a content rich and one of the largest events in India on Nuclear Energy. Besides the theme, there would be a roundtable on Growth of Nuclear Power including fleet mode implementations of Nuclear Projects: non- power applications of Nuclear Energy and future prospects of Nuclear Energy. Industry leaders from India and abroad are being invited to deliberate and share their views and experiences on these issues
Participating Organisation & Distinguished Speakers
Key sectoral players from India and abroad have addressed the previous Conclaves. These include: Dr. Jitendra Singh, Minister of State, Prime Minister's Office, Department of Atomic Energy & Ministry of Personnel, Public Grievances & Pensions; Mr. V. Naryanasamy, Hon'ble Former Minister of State, PMO; Dr. Anil Kakodkar, Former Chairman, AEC; Dr S Banerjee, Former Chairman, AEC and Secretary to Department of Atomic Energy; Mr S A Bhardwaj, Chairman, AERB; Dr. Sekhar Basu, Chairman, Atomic Energy Commission; Mr. S K Sharma, CMD, NPCIL; Mr. Y.S. Trivedi, Sr Executive Vice President, L&T; Mr. Krish Rajan, Vice President, India Projects Westinghouse; Mr. G K Pillai, MD & CEO, Walchandnagar Industries Ltd; Mr Kaustubh Shukla, COO, Godrej & Boyce Mfg. Co; Dr. P Chellapandi, CMD, BHAVINI; Mr R S Sundar, Site Director, Kudankulam Nuclear Power; Dr. S A V Satya Murty, Distinguished Scientist & Director, IGCAR, Kalpakkam; Dr. Arun Kumar Bhaduri, DIRECTOR, IGCAR; Mr. Yadav, ED Nuclear Business, BHEL; Mr. Nikita Mazein, Vice President Rosatom Overseas; Mr. S C Chetal, Director, AUSC Project; Dr. Harsh Mahajan, MD Mahajan Imaging; Mr. V Rajan Babu, Director Technical, BHAVANI; Ms. Minu Singh, MD NUVIA India etc.
Distinguished Speakers Planned to be Invited
Dr. Sekhar Basu, Chairman, AEC; Shri S K Sharma, CMD, NPCIL; Shri S.A. Bhardwaj, Chairman, AERB; The Roundtable and Plenary will be participated by Russian State Atomic Energy Corporation "Rosatom",. LWR Westinghouse (USA), EDF (France), BHAVINI (India), L&T, BHEL, Godrej and Boyce, Rosatom, Nuvia, IGCAR, Dr. Anil Kakodkar, Former Chairman, AEC; Director BARC,Director, Tata Memorial Centre, MD, Mahajan Imagins etc.
Organising
India Energy Forum: The Forum is a unique, independent, not-for-profit, research organization and represents energy sector as a whole. It is manned by highly qualified and experienced energy professionals committed to evolving a national energy policy covering nuclear, coal, hydro, thermal, oil and gas, renewables etc.

The Forum's mission is development of a sustainable and competitive energy sector, promoting a favourable regulatory framework, establishing standards for reliable and safety, ensuring an equitable deal for consumers, producers and the utilities, encouraging efficient and eco-friendly development and use of energy and developing new and better technologies to meet the growing energy needs of the society. Its membership includes all the key players of the sector including NTPC, NHPC, Power Grid Corporation, Power Finance Corporation, Reliance Energy, Unocal, Alstom and over 100 highly respected energy experts. It works closely with various chambers and trade associates including Bombay Chamber, Bengal Chamber, Bangalore Chamber, Madras Chamber, Maratha Chambers (Pune), PHD Chamber, Observer Research Foundation, IRADE, INWEA, Indian Coal Forum, and FIPI.