"Glimpses" of 8th Nuclear Energy Conclave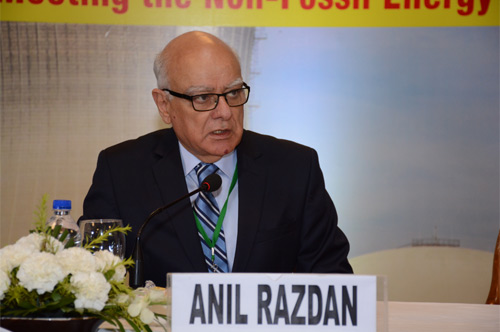 Introduction
For the last seven years this ANNUAL MEET has been discussing the issues impacting civil nuclear sector in-depth and highlighting the Roadmap for Future Development. Over the years, this has been one of the largest Annual Meet on nuclear energy sector. Key sectoral players from India and abroad have addressed previous conferences. These include: Dr Jitendra Singh, Minister of State, Prime Minister's Office, Department of Atomic Energy & Ministry of Personnel, Public Grievances & Pensions; Mr. V. Naryanasamy, Hon'ble Minister of State, PMO; Dr. Anil Kakodkar, Former Chairman, AEC; Mr S A Bhardwaj, Chairman, AERB; Mr K C Purohit, Dr Sekhar Basu, Chairman, Atomic Energy Commission; Mr K C Purohit, CMD, NPCIL; Mr N Nagaich, Director, NPCIL; Mr. Y.S. Trivedi, Sr Executive Vice President, L&T; Mr. Graham Cable, Vice President , Westinghouse; Mr G K Pillai, MD & CEO, Walchandnagar Industries Ltd; Mr Patrick Ledermann, Vice Chairman & MD, Alstom India; Mr Kaustubh Shukla, COO, Godrej & Boyce Mfg. Co; Dr P Chellapandi, CMD, BHAVINI; Mr RS Sundar, Site Director, Kudankulam Nuclear Power; Dr S A V Satya Murty, Distinguished Scientist & Director, IGCAR, Kalpakkam; Mr. Erwan Hinault, CMD, AREVA India Pvt. Ltd.; Mr. Shah Nawaz Ahmed, Senior Adviser, India, Middle East & South-East Asia, World Nuclear Association; Dr. Alok Misra, Deputy Director, Regulatory and Licensing India Project, Westinghouse; Mrs Manju Gupta, President, Areva India Ltd etc.
8th Nuclear Energy Conclave
The next 8th Nuclear Energy Conclave will be held on Friday, 30th September 2016 at Hotel Le-Meridien, New Delhi. In line with present Govt's emphasis on Energy and INDC's Commitments, the Theme of the Conference this year is "Meeting the Non-Fossil Energy Targets through Nuclear Power". The Conclave will focus on advanced technologies for safer and cleaner fossil energy leveraging domestic engineering/manufacturing/construction capabilities, advancement of technology within the country, Safety and Regulation. It is intended to discuss Advanced Technologies for safer & cleaner Non-Fossil Energy.

It is also planned to organize Round Table Debate - to give opportunity to Indian venders to discuss issues in expanding supply chain capabilities for both PHWRs and LWRs. The discussions will cover nuclear capacity addition programmes, technology transfer issues, policies to engage existing capacities and bringing in new players.
Objective
India, under COP21, has submitted its Intended Nationally Determined Contribution (INDC), pledging to reduce emission intensity of its GDP by 33-35 per cent by 2030 from 2005 levels and aims to achieve about 40 per cent cumulative electric power installed capacity from Non-fossil fuel based energy resources in the same time frame. It reflects the beginning of India's energy transformation from carbon intensive sector to non-fossil areas where Nuclear energy can play a major role.

The theme of 8th Nuclear Conclave is intended to focus on contributions by Nuclear energy towards the country's vision of clean energy future.
Organising
India Energy Forum: The Forum is a unique, independent, not-for-profit, research organization and represents energy sector as a whole. It is manned by highly qualified and experienced energy professionals committed to evolving a national energy policy.

The Forum's Mission is development of a sustainable and competitive energy sector, promoting a favourable regulatory framework, establishing standards for reliable and safety, ensuring an equitable deal for consumers, producers and the utilities, encouraging efficient and eco-friendly development and use of energy and developing new and better technologies to meet the growing energy needs of the society. Its membership includes all the key players of the sector including NTPC, NHPC, Power Grid Corporation, Power Finance Corporation, Reliance Energy, Unocal, Alstom and over 80 highly respected energy experts. It works closely with previous chambers and trade associates including Bombay Chamber, Bengal Chamber, Bangalore Chamber, Madras Chamber, Maratha Chambers (Pune), PHD Chamber, Observer Research Foundation, IRADE, INWEA, Indian Coal Forum, PETROTECH, and PETROFED.