Glimpses" of 6th Coal Summit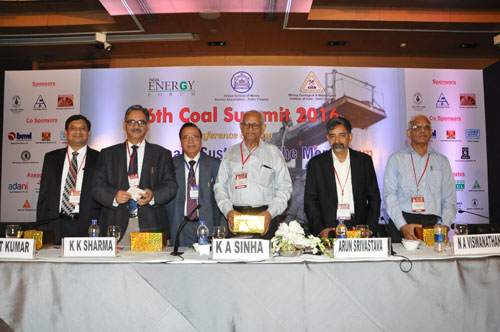 Introduction
For a developing economy like India, assured and affordable supply of Energy is the prime pre-requisite for achieving economic growth and desired level of human development.

In India, it is Coal which is ensuring this since it accounts for almost 55% of country's Commercial Energy needs and more than 70% of Power Generation.

Going forward, Renewables will have a bigger role to play than what they are doing today but Coal is projected to maintain its dominant position for almost next two decades. This also makes sound economic sense since the country is blessed with huge Coal Resources whereas it is rather deficient in other Fossil Fuels like Oil and Gas and development of Renewables is going to take time.

The country has an ambitious goal of ensuring "24 x 7 supply of Power for All" and for achieving this objective, the Coal production programme has been accelerated to 1580 mill tons per annum to be achieved by 2019-20.

It is heartening to note that the spell of stagnation which had crippled the Indian Coal Industry till about two years back has been broken and the Industry has achieved an unprecedented growth rate of 8.4% in 2014-15. More encouragingly, the way things have progressed, it is likely to do one better in the current year by achieving a growth rate of more than 9%.

The Industry has thus covered lot of ground but lots more remains to be done. Need of the day is to take a look at where and how the Industry has reached where it is and chalk out the Roadmap for sustaining the growth momentum that has been generated.

India Energy Forum (IEF), the premier think-tank of the Country on Energy issues together with Mining, Geological and Metallurgical Institute of India (MGMI), Delhi Chapter the oldest organisation of Earth Scientists in India and Indian School of Mines Alumni, Association (ISMAA), Delhi Chapter, has been organising a Biennial Summit on Coal for a decade now. In view of the current situation and ongoing developments in the Industry, it is decided to devote the 6th Coal Summit due this year to the theme of "Indian Coal - Sustaining The Momentum". This Summit will be organised on 6th and 7th the September 2016 at Hotel Le Meridian, New Delhi.

Challenges in Coal Sector are many and so are the obstacles which are varied in nature. The objective of the Summit would be to identify them and take a comprehensive look there at and chalk out strategies to meet them. The entire gamut of Coal Mining activities starting from Exploration and including Mining technologies, improvement in Infrastructural facilities, upgrading of Mining Equipment and facilitation of clearance processes particularly those related to Environment and Forest and Land Acquisition and R&R and most importantly Mine safety will have to be addressed.

Relevant issues to be dwelt upon have been identified as under:

Modernising Coal Exploration Technology;
Expediting statutory clearances like those related Forest and Environment
Enlisting proactive cooperation of the State Govts in matters of Land Acquisition & R&R
Improvement in Infrastructural facilities particularly Rail connectivity for un-developed / under developed coalfields
Upgradation of Mining Equipment
Improvement in Underground production with modernisation of Technologies
Impact of volatility in International Coal Prices on Domestic Coal
Development of Captive Coal Blocks
Improving availability of Indigenous Coking Coal
Making Coal Mining and Coal Utilisation more environment friendly with particular emphasis on Coal Beneficiation
Coal Demand Side Management
Successful organisation of an Event of this nature and magnitude will require the active support of all the stakeholders in Coal Sector like Coal Producers, Coal Consumers, Regulatory Authorities in general and that of Ministry of Coal, Ministry of Power, Ministry of Environment and Forests, Ministry of Steel, Indian Railways, concerned State Governments in particular. This support has already been sought and assured.