Glimpses of the 19th India Power Forum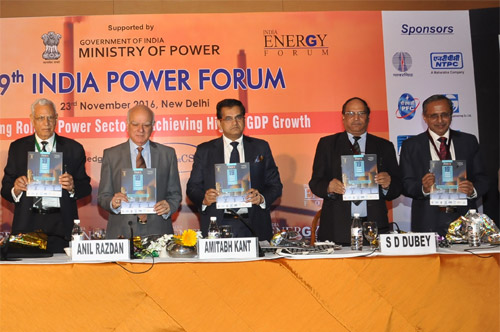 Backdrop
Electricity is a concurrent subject at Entry 38 in list III of the Seventh Schedule of the constitution of India. The Ministry of Power is primarily responsible for the development of electrical energy in the country. The Ministry is concerned with perspective planning, policy formulation, processing of projects for investment decision, monitoring of the implementation of power projects, training and manpower development and the administration and enactment of legislation in regard to thermal, hydro power generation, transmission and distribution. The Ministry of Power is responsible for the Administration of the Electricity Act 2003, the Energy Conservation Act 2001 and to undertake such amendments to these Acts, as may be necessary from time to time in conformity with the Government policy objectives.
Overview
The overall generation is the country has been increased from 1048.673 BU during 2014-15 to 1107.386 BU during the year 2015-2016. The overall growth rate is recorded by 5.60 %. The annual growth in Power generation during last three years is as under:
2013-14 - 6.04
2014-15 - 8.43
2015-16 - 5.60
Electricity sector in India is growing at rapid pace. During the year 2015-16 the peak demand was 153 GW and the installed capacity was 298 GW on 31.3.2016, with generation mix of thermal (70.7%), Hydro (14.4%), Renewable (13%) and Nuclear (1.9%).

An extensive network of Transmission lines has been developed over the years for evacuating power produced by different electricity generation stations and distributing the same to the consumers. The nominal EHV lines is Vogue are ± 800KV HVDC and 775 KV, 400KV, 230/220 KV 110KV & 66 KV AC lines. These have been installed by all the SEBs, and by Generation, Transmission & Distribution Utilities including those is central sector. 2015-16 saw the commissioning of 28,114 CKM of transmission lines against 22101 CKM during the year 2014-15, having growth of 27.21%. This is 118.56% of the annual target of 23712 CKM fixed for 2015-16 and also the highest ever during a single year. Similarly, the overall increase in the transformation capacity has been 62,849 MVA during 2015-16, constitutes 124.35% of the target of 50,543 MVT fixed for 2015-16.

Created spring board for decades of prosperity should be able to achieve 24x7 Power by 2019. The fantastic pace of transformation is the power sector has produced tangible results in a span of two years and the present government plans to turn the challenges ahead into opportunities.
Generation
The generating capacity has capitalised by leaps & bonds, the era of coal shortage is gone.
Transmission
There is no shortage of power transmission capacity in the focused area, particularly in South & the North East, where there are challenges, but in the overall context, we should be ready by 2019.

In this backdrop, this Conference will be debate on how the growth of power sector will keep a pace with growth in GDP.