"Glimpses" of 16th renewable Energy Summit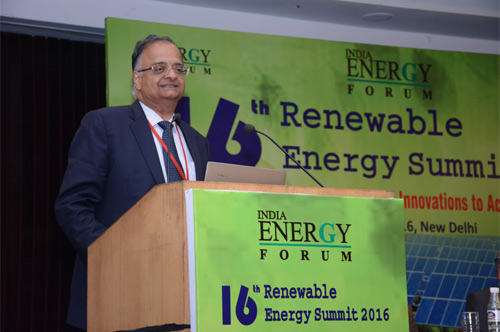 Introduction
India Energy Forum has been organizing an annual national conference to focus on challenges and opportunities in development of clean and environfriendlyenergies over the years. These conferences have created a niche position and are attended by energy professionals and policy makers from all over India.
The climate issues continue to loom before us. India has responded by setting its ambitions targets in terms of renewable energy (175 GW by 2022), distributed energy systems, wate conservation, energy conservation (National Mission on Enhance Energy Efficiency), smart grids (smart grid mission with a clear roadmap), eco-friendly 100 +smart cities, new and progressive waste management rules (2015 rules), smart and eco-friendly transportation including electric vehicles (Naitonal Electric Mobility Mission Plan) etc. In most of these areas significant work would need to be done by 2030 with a clear momentum needs to be built by 2020.

State wise Targets of Rooftop Solar for 40GW by 2022: India has released a tentative year-by-year breakdown of individual state targets to reach its overall 40GW rooftop solar installation goal by 2022. A Plan for the 'Grid Connected Rooftop and Small Solar Power Plants Programme.

This ambitious programme has turned Solar Sector into a $100 Billion Investment Magnet: The government has officially approved an incredibly ambitious plan for India's fledging solar sector. From the current solar power generation capacity of 4GW, it aims to produce as much as 100 GW by 2022 — with a target of attracting a staggering $100 billion into the sector over the next seven years. A fairly sizeable chunk of that goal was met, when Japan's SoftBank, along with telecommunication major, Bharati Enterprises, and Taiwan's electronic goods manufacturer, Foxconn, announced plans to invest $20 billion for setting up 20GW of solar power in the country. In addition, India is committed to ensure that our carbon footprint will be contained and India will in fact reduce emission intensity by 30 to 33% by 2030. We are now planning the 16thRenewable Energy Summit to be held on 6' October 2016 in New Delhi. The proposed Theme is "Solar Rooftop: Challenges and Innovations to achieve 40 G W".